About The Program
There are mandatory events that all freshmen must accomplish by the end of the first year at SHU. Inclusion in the Passport program serves as a reminder, but you will be notified through e-mail, Blackboard and the LCD sign located on the second floor of Jubilee Hall as the events draw near.
There are "optional" events sponsored by Stillman and other campus organizations. These have been identified by the Stillman faculty, administration and students as adding value to your Freshman experience.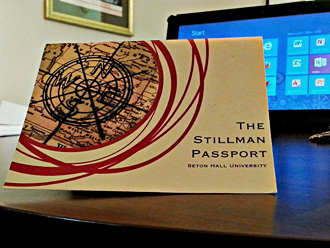 About The Open Badges Initiative
Seton Hall's Badges program is designed to be compatible with the Badgr Open Badges Backpack.
The Open Badges Initiative is based on the idea that learning today happens everywhere, not just in the classroom, but it's often difficult to get recognition for skills and achievements that happen outside of school. Mozilla's Open Badges project is working to solve that problem, making it easy for anyone to issue, earn and display badges across the web -- through a shared infrastructure that's free and open to all. The result: helping learners everywhere display 21st century skills, unlock career and educational opportunities, and level up in their life and work. Learn more here.